DEE PHELPS is an alumnus of The University of Pittsburgh and the Wharton School of Nursing. Once owning a large plantation, her family passed down through the generations tales of life on a Lowcountry cotton and indigo plantation near Beaufort, South Carolina. From those fascinating and sometimes harrowing stories, Dee wrote The Disappointment Room. She is also the author of a children's book, The Flower in the Thickets written under the pen name of Marcella Miller. Dee Phelps has written numerous International travel articles for national magazines and was a surgical nurse for twenty-five years. She lives in Beaufort, South Carolina near her family.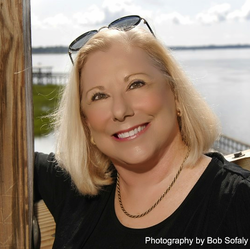 Q & A

1. Tell us about yourself.

I grew up in South Park, Pennsylvania, a suburb of Pittsburgh. After two years at the University of Pittsburgh, I ventured South and became a forever resident of Beaufort, South Carolina. I finished my nursing studies at Wharton School of Nursing in Bay City, Texas and practiced nursing for nearly thirty years in Beaufort for physicians' offices and at Beaufort Memorial Hospital. I am now a full time author working on the sequel to The Disappointment Room and other projects.

2. How did you refocus your life from a caregiver and nursing professional to writing?

In 2004 my husband passed away, very suddenly and tragically. I realized that I was at a cross-road in my life and felt I needed a new direction. I hung up my bed pan and went back to school for writing. At the time writing was therapy, as I used the written word as a means of healing in the aftermath of personal trauma. After delving deeper into the magical world of literature, my expression with words transformed from healing my soul into a fun and creative new career. When I first started writing full time, my economic status was vastly below the poverty level, and my youngest son was in college, but every tuna and Kool-aid meal was worth the sacrifice, both personally and professionally. Would I do it all over again? Absolutely!

3. How did you develop the story for The Disappointment Room?

That is a very interesting question. My husband's family owned a cotton and indigo plantation before the Civil War. When my oldest son was a toddler, he and I were sitting in my mother-in-law's kitchen and she was feeding him cheese grits with little pieces of tomato cooked in. She looked over at me and said in her sweet Southern accent, "Darlin', I want to tell you a story." She told of tales passed down from generation to generation, of plantation days, slavery, and life before the Civil War. One story, in particular, was about a disappointment room. For the next twenty-eight years I kept that story tucked away, and when I began writing, the story was so haunting and compelling that it begged to be written. I found from my research that disappointment rooms were, indeed, sad facts of life in antebellum days, so I weaved an eight-generational family saga which begins and ends in a disappointment room.

4. What are the next steps for you?

I'm working on the sequel to The Disappointment Room, and have a strong premise for a trilogy. As much as writers love for their characters to go on forever in a series, sometimes you just have to know when enough is enough. I have developed two very strong protagonists for an FBI series with a medical vein which will appeal to a broad range of readers.

5. Will Beaufort remain your home base?

I wouldn't want to be far from home for too long of time--I would miss my grandbabies desperately, so perhaps in the near future I will dividing my time between Beaufort and France. New York City is another possibility, and a great source for story lines.

6. What do you want people to come away with after reading your books?

People read fiction for entertainment, for an escape from reality, for transportation to a new or different place or time. Admittedly, I started writing for self-fulfillment, but as time and my skill at writing progressed, it became a passion. As with any endeavor, if one works hard and puts their heart and soul into their craft, it pays off. If my readers read the last page of my book and say, "Wow, that was really good!" then I have achieve my goal as a successful writer.


---
M E D I A R E L E A S E
Dee Phelps
14006 Sandra Drive
Beaufort, South Carolina 29906
843-263-0128
deephelps.com
dee@deephelps.com
M E D I A R E L E A S E
FOR IMMEDIATE RELEASE
Local Writer Draws From Her Family's Heritage To
Write A Sweeping Family Saga Set
In The Lowcountry Of South CarolinaWINNER OF THE SILVER FALCHION AWARDFOR BEST FIRST NOVEL 2014

Beaufort, South Carolina
The Disappointment Room
by Dee Phelps was released by
River City Publishing on February 3, 2014
Beaufort writer, Dee Phelps' family had a unique past; they were plantation owners before the Civil War, growing King Cotton and indigo. While listening to the tales passed down from generation to generation, she was inspired to write
The Disappointment Room.
Imagine one woman's wicked behavior affecting the lives of eight generations of her family.
Phelps started her writing in 2004 after a twenty-five year career as a nurse. She is a graduate of Wharton School of Nursing and masters in writing. She wrote feature articles for a local on-line newspaper, did several years of travel journalism for national magazines and wrote a children's book,
The Flowers in the Thickets
under the pseudonym, Marcella Miller.
The Disappointment Room
is Phelps' debut novel. She is a member of South Carolina Writers Workshop, Southeastern Independent Booksellers Alliance and Beaufort Pro Writers. She lives in Beaufort, South Carolina.
The past collides with the present in this exciting tale that begins in 1844 on Coffin Point Plantation, Beaufort, South Carolina. Beginning with Charles Knight, locked away in a Disappointment Room, with only Munday, his black nanny, and Helen, her daughter for companions, the Knight family sage is set in motion.
THE DISAPPOINTMENT ROOM is a gripping story of human bondage and the relentless search for freedom, freedom from the ghosts, secrets, terrors, and atrocities of the past. But the past keeps coming back.
A fast-paced, exciting read infused with the Gullah culture, voodoo, slavery, and the politics of the antebellum and contemporary South.
The Disappointment Room is available wherever books are sold.
The Flower in the Thickets is available on amazon.com
The Disappointment Room ISBN: 978-1-57966-093-2
The Flower in the Thickets ISBN: 978-1-4196-7933-9
ENDORSEMENTS FOR THE DISAPPOINTMENT ROOM
"Phelps' amazing first novel is a spellbinding saga of a young man imprisoned in a hidden attic room in a South Carolina plantation where dark family secrets, slavery, and the Gullah culture of superstition come to life on the page. Don't miss this one!"
CASSANDRA KING
, Bestselling author of The Sunday Wife and Moonrise.
"A compelling saga of the past meeting the present, told in the author's distinctive voice."
JEFFERY DEAVER
, International number one bestselling author; most recent novels, The October List, The Kill Room, and XO.
"A haunting and fascinating first novel of a boy hidden in an attic room in a Carolina plantation home by a conspiring mother whose personal ambitions outweigh her love for her family."
PAT CONROY
, bestselling author of The Prince of Tides, The Great Santini, and South of Broad.
"The Disappointment Room is a fast-paced novel infused with the Gulllah culture, slavery and politics in the antebellum South. A young boy from a plantation family is confined by his politically ambitious mother to a secret room in the house on Coffin Point Plantation. His quest for personal freedom parallels those of the slaves who travel with him on a difficult journey to freedom. A powerful debut from author Dee Phelps."
MARY ALICE MONROE
, NY Times bestselling author of The Summer Girls.
"Dee Phelps has captured the essence of the Gullah and Sea Island culture in her vivid novel, The Disappointment Room. She has painstakingly delved into the agony, hopes and aspirations of a people during a challenging era."
REV. KENNETH F. HODGES,
SC House of Representatives.
Agent Representation:
Jill Marr
Sandra Dijkstra Literary Agency
1115 Camino Del Mar
Del Mar, California 92014
###